BS-Mall is a professional custom makeup brushes manufacturer capable of using various material options that have distinctive features and applications. Your new production lines can be extended to limitless possibilities in each part of a makeup brush, including the bristle, ferrule, and handle.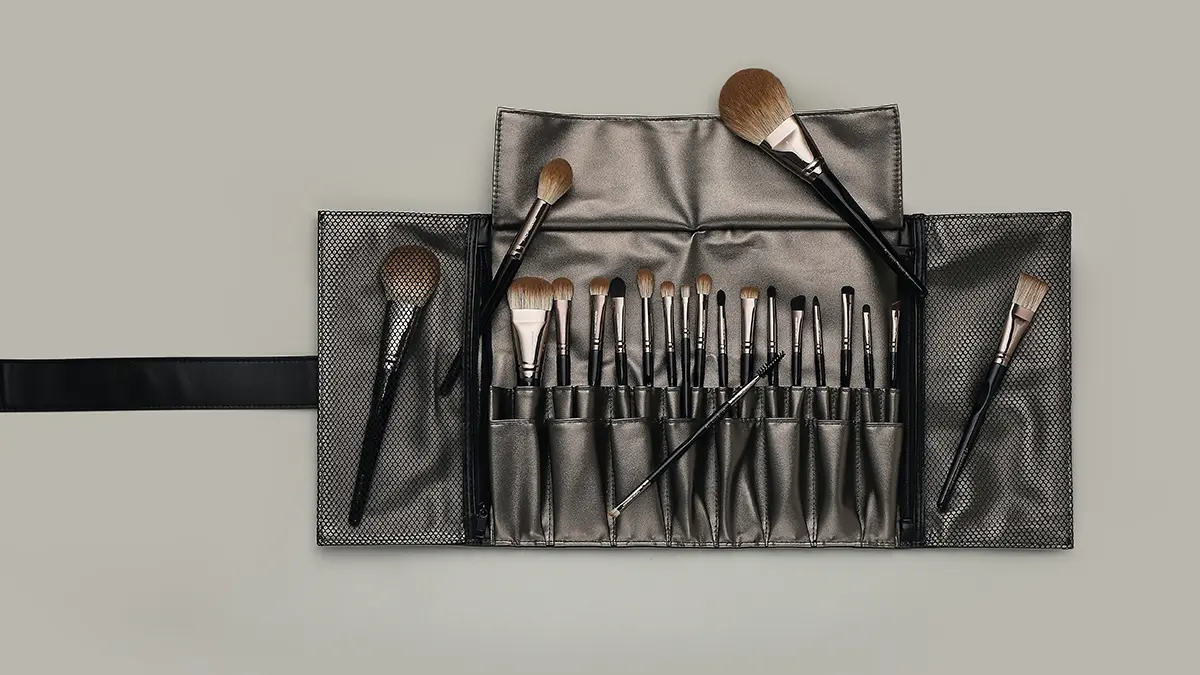 Considering the difference in individual skin tones and beauty demands, there are a variety of bristles available to select from. Ranging from cruelty-free synthetic fibers to natural animal hair, BS-Mall devote to create a cruelty-free brand identity and guilt-free using experience for your customers.
Synthetic
Synthetic bristle with smooth fibers. Most suitable for makeup brushes that require a high degree of tightness to the bristles, such as concealer, brow, and mascara brushes.
Natrafil® Ployester
Advanced polyester-based composite bristle made by dupont. It has a textured surface, which allows the hair to grab powder and spread over the skin evenly. Most suitable for powder brushes.
Goat Hair
Natural bristle with stable seasonal sheering for goat health, smooth, and tender fine tips that gives an even result and great feel to the skin. Most suitable for blush and all kinds of powder, including loose and compact.
Horse Hair
Natural bristle from horse without hurt that offers great blendability, color payoff, durability, and ease of use. Most suitable for luxury blusher, eye shadow, and brow brushes.
Generally, brushes are clipped in two types of ferrules, which are copper and aluminum. To meet your flexible requirements, we can customize ferrule with color plating, style, and size in accordance with your needs and budget.
Copper
Durable metal with high resistance to corrosion that gives a premium appearance and classy finish to the brush. It's suitable for high-end product lines as it holds the bristles firmly.
Aluminum
Light and cost-effective material, making it the most common metal used for manufacturing ferrules. The color and shape can be malleable flexibly to your preference.
Wheat Stalk
New vegan and biodegradable material that's suitable for sustainable brand makeup brushes. It's light to carry, offering comfort and flexibility during usage.
Wood
Sustainable material is suitable for an eco-friendly brand identity. Wine cork with a classy texture that's appealing to the eye can also be made.
Sustainable and cost-effective materials that exceed the normal options for handle on the market. They are ready for selection in stock, and customization is also available for different colors, sizes, styles, logo printing, etc.
Bamboo
Natural and eco-friendly material with a light weight. The classy wood look, inexpensive cost, and perfect grip set it apart from other handles.
Plastic
Extremely light and cost-effective handles available in all pantone colors. Customization can be made into unique grip shapes like round, oval, tapering, etc.
Collaborating with reliable manufacturers, BS-Mall can supply various styles and materials peristantly. It can also be customized with your logo.
PU Leather
Fancy and classy looks are popular among makeup lovers. Pouch and bucket styles for you to choose from.
Acrylic
Convenient holder for storage and drying purpose on the dressing table. Easily to clean and use.
Metal
Large capacity portable case for professional makeup artists. Protective and durable materials without easily damage on the way.
Nylon
Synthetic bristle with smooth fibers. Most suitable for makeup brushes that require a high degree of tightness to the bristles, such as concealer, brow, and mascara brushes.